With the assassins defeated and Annah shunted off to another plane with none of her belongings save for what she carried on her person, the Rift Walkers gathered their loot and returned to the city, getting the first good night's sleep they'd had in weeks. Annah's belongings included a set of letters from her sister, Tryndrey. The two had a falling out after Annah sent a magical stasis ward to her sister that kept their ailing mother in a painful stasis while she worked on a solution. Disgusted at Annah's overpragmatic and heartless 'solution', and the fact that she was too absorbed in her research to visit even once, Tryndrey seemed to have cut ties with her.
Uli suggested a bar crawl to celebrate; Brunnar, Ianward (attendant at the artists' guild poorhouse and artist of Uli's cow painting), Danna (former co-star of Wesson's Modron play and self-help author), Borp (Messenger guild pigeon), and Kaneza were all invited. The party hit multiple establishments, including, with Borp's guidance, an illicit den run by the Gold Fang. Patches gave the group drinks on the house. Borp proved to be quite the party animal, more than capable of consuming his own weight in liquor and drugs. Uli and Ianward flirted, with the latter offering to pay for Uli's drinks after a certain suggestion by her. After a spiral of increasingly lewd nightclubs at the Courtesans' guild, the party ended up at the Foamtop, Arrold's former place of residence and favorite drinking spot.
After a toast by Vani for Arrold, the group was shocked to see Arrold himself joining in! Kaneza admitted that she owed him for saving her life, and that she pawned her set of platemail to pay for his resurrection at the temple.
Over the next week Yuna, Jade, and Vani tried to shop for maigc items. With Jade's help, Yuna eventually found an enchanter willing to make her an arm bracer with the Shield spell embedded inside it.
Irini endeavored to find Uli's sword, Chimera, which is still at the bottom of the swamps somewhere.
Vani began training with Illokas, going through a rigorous process to learn the basics of magic and the Weave. Her training ended a few weeks later with a trip to the ethereal plane; walking through the city, she saw that the Artists' Guild was secured against magical travel, that the Mortician's guild animated corpses to sell as workers in some sort of voluntary paid contracting process, and that Kaneza possessed extraordinary strength; she was able to do hundreds of chin-ups in her room, but a log she kept showed that age was slowly catching up to her; she finished with 1 pull up less than previous months.
Outside the Adventurer's guild, Vani saw a spectral man clad in garb associated with Lathander sitting on the base of the statue 'donated' by the adventurer's guild. Vani approached the ghost and learned that it was the very same person; Andros, a cleric of Lathander who had tried to defeat the Corvi family single-handedly after learning they were vampires. He remained in the ethereal plane as a ghost, unable to find peace with his death and his failure to do enough good works before his death. Vani spoke from her heart and reassured him that his failure was not a reflection of his intentions. Andros drew strength from Vani's resilience and asked her to walk a righteous path in his stead. At peace after two long years, Andros departed to Elysium, the plane of Neutral Good.
Uli, while wandering through the city with her newly restored taste buds after paying for a Greater Restoration spell, found a crowded stall run by an irate hippo-man chef. His previous attendant had accidentally served moldy bread to a customer, prompting him to shoo him away with a strange weapon that propelled a ball of iron with incredible force and racket. Uli just barely managed to win this strange being's tolerance, and began learning cooking from him. Battling her new phobia of oozes after her demise in the swamps, Uli eventually was able to expertly prepare a berry dish that required gelatinous cube ooze from a tiny, albeit live specimen to neutralize the food's bitterness. Uli gained proficiency with chef's tools, a culmination of her years of interest in the craft.
Uli also paid a large sum of gold to get herself tattooed, and had a romantic encounter with Ianward. An artistic nude called "Tattooed Woman with Axe" now exists somewhere in the world.
Over time, Uli learned that the hippo-man's name was Sargent Forth Rank Torvald Touchdown, and he was of a race called "Giff". Originally part of a plane-travelling mercenary group, Torvald was separated from his unit after their ship took damage in a battle over the Elemental Plane of Water. Having some skill in cooking just about anything his unit could scrounge up around the planes as one of his ship's galley chefs, he set up his stall to raise money to bribe a wizard to get him back to his people. Uli kindly directed him to Illokas, who took on the task pro-bono. Grateful for her assistance and possessing an inherent sense of duty, Torvald offered Uli one of his badges, saying that presenting it to a Giff will immediately be a sign of good faith, and that they would be sure to render assistance. Excited to resume his adventures, Torvald forgot his chef's tools in Priem, leaving them in Uli's care.
Jade traveled to the healers' guild and managed to convince Mira to grant him some of her blood by saying he had a method to determine what exactly she was. Saniel took great umbridge with this, and, even weakened after manifesting to fight the assassins and shackled by Mira's willingness to give Jade her blood, manifested through sheer willpower to choke Jade. Jade's eye met Saniel's, and the Deva's hand was scorched by the power of Jade's personality and his pact with Belial. Mira felt suddenly ill and retired to bed. Jade, at Belial's behest, set the handkerchief with Mira's blood aflame with his magic, delivering it to Phethelegos and Belial's clutches.
Belial told Jade that Mira was an Aasimar, a being with celestial blood. He explained Tieflings were similar beings, only touched by the infernal powers, and neither were necessarily always created through intercourse and birth. Jade resolved to let Mira know about this at some point. Belial suggested Jade lie to the party about what had transpired; he agreed, but Yuna caught a slight recalcitrance in his voice while he was relaying his false account of what had happened.
Yuna went on her date with Brunnar, who took her to Create Food, a new restaurant run by younger members of the Wizard Citadel eager to pay off their tuition. The two of them found themselves levitated up into the sky and served food with a variety of magical means; clams were opened with an ice knife while a bigby's hand squeezed lemon onto them, stuffed peppers were created with teleportation magic, and more. The two talked about their pasts and futures; Yuna expressed regret about Annah getting away. Brunnar said he was sure she'd get a second crack at her, and at that point she'd be experienced enough to terrify her. Brunnar elaborated a bit more about his past; he had a troubled home life and spent a few years as something close to a thug until an old man he tried to rob beat some sense into him and taught him methods to calm his emotions.
The date continued with a visit to the Sunspot Ballroom, the premiere music venue in the Bards' Guild. Yuna was enchanted by the main act, a quartet of Eladrin who played a shifting symphony that went from an energetic dance to a swaying rhythm to a slow dance to a cheery jig complete with bubbly liquor. The quartet was credited as:
Durqis- Winter Elf; pale, almost bluish skin, white hair that shines cobalt in the light. She plays a violin.
Wress- Autumn Elf; hair the color of a pumpkin tied up with wicker. Plays the lute.
Pinarra- Spring Elf; pink-white hair, shiny yellow eyes; plays the flute.
Rizora- Summer Elf; bleach blonde hair and deeply tanned, sunkissed skin. Has tattooed her cheek with firey orange ink depicting a sunburst. Plays an impressive, stacked drum set made of animal hide.
Yuna expressed interest in tracking them down to ask them some questions.
Brunnar then reluctantly took Yuna to his favorite haunt, Sagah's, a bar on the edge of the craftsman's row and impoverished district of the city. It was a noisy, energetic place filled with mostly half-orcs. A fighting ring was in the center of the establishment; a half-ogre revealed that Brunnar is currently the reigning champ. Much to Brunnar's chagrin, Zunasha, a sometimes-lover of his, entered the bar after returning from a mission with her mercenary company, the Stonechewers. Zunasha flirted with Brunnar and made some unkind remarks about her in Oricsh that Vani would later translate as "Don't worry, I'll still be here after she snaps in half under you." (Brunnar also muttered 'take both my eyes' when she entered, which calls to Grummush's loss of an eye to Correlion's arrow. Roughly translated as 'fuck my life'.) Yuna got in the ring with her and took a nasty punch, but returned with her own and bested her. Zunasha seemed amused at the display, and respectful of how she kept her temper down.
The date ended with a horseback ride into the woods; Brunnar wanted to show off his favorite spot to think in the woods, but the pair had to divert course after finding a family of sleeping owlbears. They ended up at a lakeside with comfortably warm water, and Yuna returned home the next morning with a spring in her step, if not just slightly sore.
Kaneza admitted she was going to sell the adventurer's guild, visit her homeland of Majula, then build a cottage out in the forest for her retirement. The group made her promise that she'd visit them in the future, which she did.
About three and a half weeks into their downtime, a ship arrived, captained by Uli's brother Von. A young halfling entered the adventurer's guild with a menacing Goliath and a quiet Assimar companion, shouting "Aunt Kaneza, I'm here!"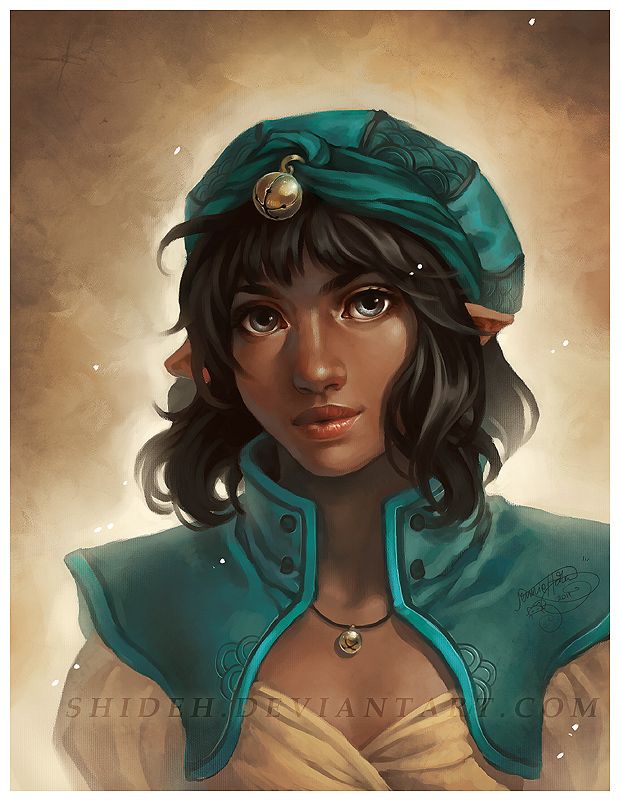 A fateful meeting is afoot…